The Jackson Law Group maintains two offices in Dallas – Davaco and Richelieu.
The Davaco building is located at Central Expressway and Lover's Lane. It is just a little bit South of Lover's behind the Meadows Building.
Davaco Building:
6688 North Central Expressway, Suite 1000
Dallas, Texas 75206
In 2016, I took an office with old friends. Kinda like going back home – Darrell, Shelly, and Bob. They had recently taken space in the Davaco Building, along North Central. The office has all the amenities of the modern law office – chrome, glass, marble, leather . . . that some client's want to see. But frankly, I prefer to operate out of the Richelieu. That's just me.
Directions to the Davaco Building: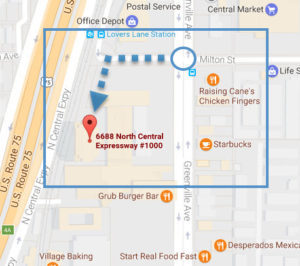 6688 N. Central Expy. Suite 1000 (10th Fl.).
Take 75/N. Central Expy. to the Lovers Lane exit. Go east one block on Lovers to Greenville Avenue. Take a right on Greenville and go south one more block to the next light at Milton. ( Office Depot is now on your right and Bank of America is on your left.) Go left as you approach the rail line, train station and you will see our Davaco building and the visitors parking entrance in front of you. Do not park outside by the rail station because that is not our building's parking and you may get towed. We only have parking inside the garage and there is no exterior parking. As you pull into the Visitors Garage parking you can park in any spot marked "visitor" parking. Take the garage elevator to the lobby level "L" and exit the garage elevator around to your right and head to the security desk and the elevator bank. Take the elevators to the 10th floor and there is our offices. If Lost call Reception at 214-368-4686
The War Room – Richelieu Apartments:
9401 Mixon, Suite 101
Dallas, Texas 75220
Too comfortable to move. Earl's working office is at the Richelieu Apartments – the manager's office at 105. In 2009, Earl moved his law office into the Richelieu so he could keep a watchful eye on his mother who was under 24/7 care. His mother passed in May 2014. Although it is not the typical brass and marble law office that many are accustomed to it is comfortable and laid back. Most of our family law clients prefer to meet at the Richelieu.  Its' quaint, old, comfortable.  Kinda of like an old blanket.  It has worked out so well, that the offices have expanded there to encompass adjacent apartments.  Earl's brother Tom moved into the space in August 2017.
One client said, "when I walked into the Richelieu, I knew. His father had built it in 63, and his first job was there. Earl's heart would be in my case."
9401 Mixon, Suite 101,
Directions to the Richelieu Apartments:
From the North Dallas Tollway, take the North West Highway Exit. Go West toward Dallas Love Field and Bachman Lake. Go past Midway and as you approach the Marsh-Lemon intersection with Northwest Highway, you will see a Target at Mixon Drive. Take a right and go North about 100 yards just behind the target.